THE FINANCIAL EXPRESS – GUJARAT GOVT PLANS 'EQUITY MODEL' OF LAND ACQUISTION
Guj Govt plans 'equity model' of land acquisition
In order to make farmers equal partners in future land acquisitions, Gujarat government is contemplating…
Gandhinagar | May 5, 2015
In order to make farmers equal partners in future land acquisitions, Gujarat government is contemplating to introduce an "equity model" wherein landowning farmers will either be made equity partners or provided with a regular-flow of rental income for the plots acquired by the state government in the future, senior officials said.
"Gujarat Industrial Development Corporation (which is the government's nodal agency that acquires land for industrial development in the state) is a non-profit organisation and so a separate joint-venture company will be formed that will take care of land acquisitions. This company will buy land from farmers and sell them for a profit to the industries," said a senior state government official.
"The farmers whose land will be acquired will be made partners in this new company. They will be give shares in the company, proportionate to the value of their land. GIDC will also hold a stake in this new firm. We are also looking at a model wherein farmers can be given some regular income or a rental model, added the official who is working on these models.
This is the second time the state government is trying to experiment with such a model after a new industrial policy was introduced this year. As per the provisions of the previous industrial policy of 2009, the state government had tried to form joint-ventures with groups of persons interested in selling buy large chunks to the GIDC. However, this idea did not see the light of the day.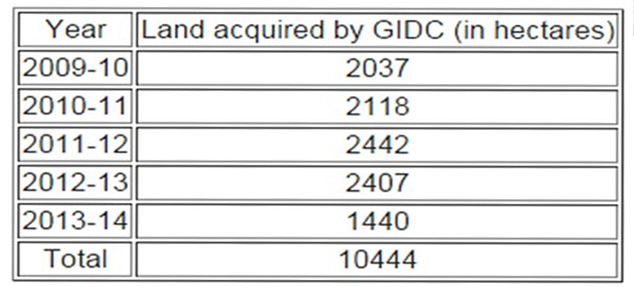 Apart from a hiccup of two — including the farmer's agitation at Becharaji-Mandal Special Investment Region (SIR) in 2013-14 —, land acquisition for the state government has been smooth. Between 1962-2008, GIDC has acquired over 26,000 hectares of land. In the last five years alone (2009-14), GIDC has acquired over 10,400 hectares of land from farmers in the state, which is about 40 percent of what was acquired in over four decades. Most of these acquisitions have been at Sanand, Dahej, Mehsana, Halol and Rajkot. Currently the state-run agency has a land bank of about 4000 hectares, but it is finding it difficult to acquire land especially in places that are close to cities or industrial hubs.
"We have deliberated this model with during the recent GIDC board meeting and now we will work on the financial modelling. We need to make this model attractive for the farmers so that they not only get good remuneration, but also willingly participate," the official said adding that the state needed to graduate from the current model of paying out farmers in full for the land acquired. The last big pay-out happened at Khoraj in Ahmedabad (near Sanand) where GIDC had acquired about 1000 hectares from 400 farmers for about Rs 1100 crore.
Nirav Kothary, an industrial real-estate expert and Head, Industrial Services of global real-estate consultants, Jones Lang LaSalle (JLL) says, "This is absolutely a workable model. This sort of an equity model has been beautifully implemented in Magarpatta City near Pune. The biggest advantage of such a model is that the farmers or the land owners continue to remain invested and is part of the potential upside to the development that happens on the piece of acquired land. They do not feel left out."
In the Margarpatta model, the farmers who pooled in their land and set up a private limited company that developed a commercial-cum-residential project, owns shares of the company, have got plush homes and earn dividends on the shares they hold.