Cycling Club at Magarpatta City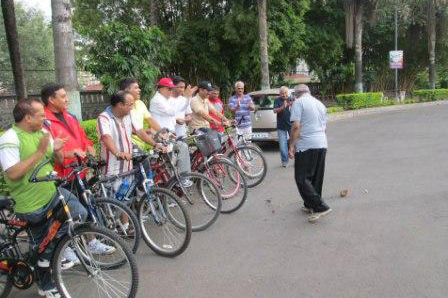 The Magarpatta City Cycling Club was inaugurated on 1st July 2012 with the intention of encouraging people to use bicycles rather than their vehicles. This would help us keep up the commitment of keeping our Magarpatta City clean and green. What started out on a small scale is now getting amazing response from the residents of Magarpatta City. From wanting to join the club to donating cycles, the residents are pitching in their best efforts to ensure it to be a complete hit.
The Cycling club would meet every Sunday from 6.30 a.m. to 8.00 a.m. at the Mist Fountain – Oxygen Zone Circle near the main entrance gate. They will be cycling around Magarpatta City to create awareness about the mission and purpose of this club. Clean air in your lungs and a chance to make new friends are just some of the bonuses that go with it.